Large explosion isolation valve

Working in an exclusive collaboration with Fike, the market leader in explosion protection, we have designed and built some large 1×1.2m explosion isolation valves that are currently being tested by Ineris for Atex certification as a protective device.
The valves are used as part of an explosion detection, suppression and isolation system. The challenge was to get the 135kg slide plate closed in under 300ms without destroying the valve.
Fike have use computation fluid dynamics to model a potential explosion in a wood pellet storage silo for Associated British Ports at Immingham. The size of the silos means it is impractical to physically test an explosion so Fike have developed cutting edge software to model the way an explosion propagates through the storage facility.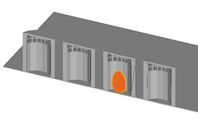 A key component of the system is a valve to isolate the surrounding plant at the top of the silo. If an explosion is detected, then the Fike system immediately deploys a suppressant blanket and the valve is closed. The quicker the valve closes, the less suppressant is required.
Using a reservoir charged with nitrogen gas, the system is energised with an explosive cartridge, similar to the one found in automotive airbags. This breaks a burst disc, dumping the reservoir contents into the back of the cylinder forcing it shut. The slide plate is cushioned with deformable dampers in the valve body.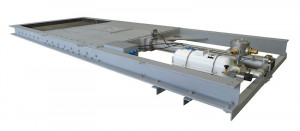 In extensive testing, the valve was closing well within the 300ms target, mostly nearer 200ms. Even after many rounds of testing, the valve maintained its integrity and could be reused and reset for further tests, a great example of the engineering expertise that MID can bring to the table with projects such as these.