Description
The MVX range is designed to be made from wear resistant materials in the areas of the valve that commonly wear out the fastest.
Normal steel and iron materials have a limited wear life when used with abrasive products. For a small additional cost, we can design the valve so that it uses wear plate in areas susceptible to wear.
Worn valves have a distinctive wear pattern round the barrel part of the body. They normally erode towards the sides of the valve where the air leakage through the clearances is greatest.
By using hard wear plate, the life can be increased typically by a factor of 4 over standard materials. The material is not a thin coating but hard all the way through so won't flake off like traditional hard coatings.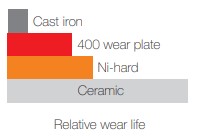 Wear resistance